10 Ways to Make a Small Bedroom Feel Bigger
Your bedroom is the room that provides you relaxation and stress reduction after a long and exhausting day. But what if your bedroom is so small that it makes you feel depressed instead of relaxed? A lot of people have faced the challenge of decorating and organizing small rooms. And a lot of great ideas have been born in the process. Here are 10 simple ways that can help you turn your small bedroom into everything you've dreamed of.
#1 Clear the Space Out of Clutter
Having a great number of items in a room doesn't make it feel bigger. Just the opposite, the more items you have in a room, the smaller it looks. Create the illusion of space in your bedroom by removing as many furniture pieces and belongings as possible from the room. Consider moving furniture to another room of your home or selling it. Large collections of personal belongings placed on visible spots could also make a room look smaller. Keeping these items away of your night tables, dressers, and entertainment centers will create the feeling of space, instantly.
#2 Maximize the Space with Proper Furniture
Choosing furniture to purchase can be difficult, especially when you are restricted by the room's size. Before you go shopping, measure the amount of wall space you have. Based on that, evaluate the space the furniture can take up from the walls. Avoid buying curved furniture! Instead, go for rectilinear. Rectilinear furniture tends to take up less space and will make it easier for you to pass by it. Another great option to maximize the space in your bedroom is to use wall hung night stands.
#3 Decorate the Room According to the Bed's Size
A large bed might be comfortable, but it is not the exact thing you need in a small bedroom. It will swallow up a lot of room space, making your bedroom feel uncomfortable and cramped. Consider having a smaller bed instead, and scale the surrounding accessories, such as table lamps and wall paintings, according to its size. This will create nice and relaxing bedroom environment!
#4 Make Your Ceiling Part of the Decor
Ceilings are often overlooked when it comes to home decoration, but this shouldn't be so. Tray ceilings, for instance, are a great way to open some space in your bedroom. This type of ceiling has become popular in recent years, and many people go for it when looking for space. Another way to achieve the illusion of space through your ceiling is by painting it in light colours. Unlike dark shades that make a room feel more closed in, light colours will open your bedroom up, leaving a feeling of space.
#5 Create a Reading 'Nook'
A small bedroom doesn't mean you can only sleep and change clothes in it. Place a small comfy chair and lamp in your bedroom, and here is your reading nook. Having areas with several purposes in your small bedroom will make you want to spend more time in the room. If you like reading in bed, consider adding a sconce to either side of the bed. This will make your reading more enjoyable and relaxing.
#6 Choose Furniture Pieces According to Your Room Size
Having furniture pieces that are too big for the space is the easiest way to make your bedroom feel small. Choose multifunctional pieces of furniture and scale them according to the size of the room. Eliminate the need of a large dresser and entertainment center by using an armoire to hold garments and a television. The more multifunctional items you have, the bigger your bedroom looks and feels.
#7 Use Your Imagination to Find Creative Storage Spaces
There are many creative ways to keep small items away of people's eyes. For instance, you can use decorative baskets to store items that don't need to be seen. This will keep your small bedroom clutter free and will add an extra touch of style. Store your children's toys in a storage bins under the bed. The floor will be clear, and the toys – easily accessible for you and your kids. Multifunctional pieces can give a lot to a small bedroom. A furniture bench with a flip open seat that allows to hold magazines and books in is more than suitable for small bedrooms.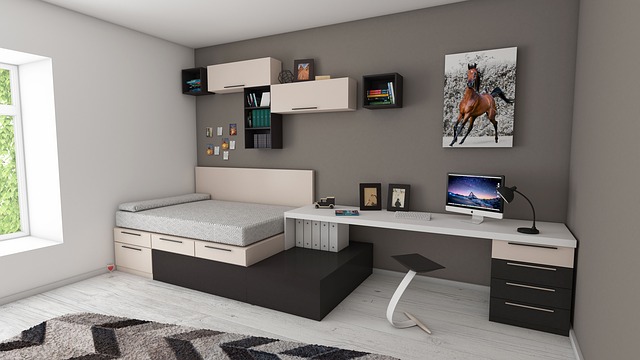 #8 A TV in the Bedroom
The choice of having a TV in your bedroom is all up to you. If you want a TV, then go on and purchase one. But make sure it will take minimal space in your bedroom. A TV with a flat screen, that can be mounted on the wall, would be the perfect choice for your small bedroom. Even if you decide not to have a TV but a stereo instead, you still may lose a valuable space. To eliminate large, clunky stereo units and save space, go for MP3 stereos.
#9 Choose the Colour Scheme Wisely
Use light colours on the walls and ceiling to brighten up the bedroom visually. The light shades will open the space and raise your mood. Avoid using dark colours on large areas. This will make your bedroom feel like a small box. If you like dark shades, use them in accessories like rugs, throw pillows, and bed linen.
#10 Create a Focal Point
Look around your bedroom and find its focal point. If it doesn't have, create one. You can place a beautiful piece of artwork above the bed or accentuate the antique dresser you have by placing a colourful vase on top of it. Anything that draws the eye away from the rest of the room could be a focal point. Focus on it and make it your bedroom's 'heart'.
Decorating a small bedroom can be difficult, but if done right, the result will be amazing. Use these 10 ideas to make your bedroom feel bigger. Feel free to incorporate these tips in other rooms in your home. See how with a few simple changes you can make a room feel more shiny and joyful in an instance.
Latest posts by Jane Wilson
(see all)