13 Tips to Clean Your House Fast & Efficiently
Nothing beats the feeling of having a clean house. With everything put away, items organised, and rooms smelling like a fresh field of flowers, you'll be in heaven from the comfort of your own home.
But there's just one problem:
The house isn't going to clean itself!
Cleaning your home can be such a drag, no matter how big or small it is. Trying to figure out the easiest, fastest, and most efficient way to clean can be difficult when you have no idea where to start. Should the kitchen be first? Should you vacuum before you sweep?
All of your questions and more will be answered in this step-by-step guide, where you will find 13 time-saving tips for work at home mums. Here's how to clean your house swiftly and thoroughly so you can go back to having peace of mind in your spotless home!
1. Do Laundry First Thing in the Morning
Laundry is one of those chores that you always forget about until it's too late and you have no clean clothes left. Get into the habit of putting a load of laundry on first thing in the morning so you can tend to other chores and tasks in the meantime.
2. Get Rid of Clutter
If you are looking for instant peace of mind, the best thing you can do is start to pick up small things around the house. Like books, magazines, mugs, electronics, and trash, clutter can pile up quickly and clog up all the room's energy. Get these small things out of the way, so you have room to deep clean.
3. Keep Your Tools Together
Different parts of the home require various tools and cleaning supplies. You will drive yourself bonkers if you have to keep leaving the room you're tending to find specific products. It would be so much easier and faster if you kept all of your products together in a caddy. That way, everything you need is always within reach.
4. Sweep Before All Else
If you plan on mopping your kitchen floor or vacuuming your carpets, you need to sweep first. Sweeping can eliminate the little pieces of dust, debris, hair, and dandruff that tend to gather in the home. This also keeps your mop from getting a bunch of dirt on it!
5. Clean the Whole House
A lot of homeowners are tempted just to clean one or two rooms and call it a day. It is a good idea to commit to the whole house when you are going to clean. You might dread cleaning day, but you'll feel better knowing that you got everything done at once!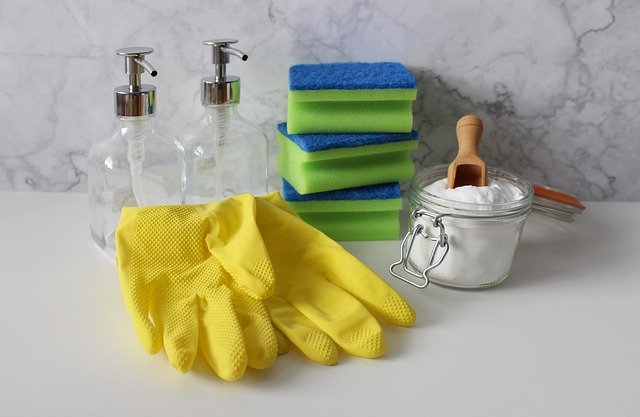 6. Keep it Moving!
When you vacuum, you can keep things quick by continuously moving throughout the home. It is unnecessary to go over every area on the carpet, including the nooks and crannies. Do a broad pass over the rug in all home parts to give it a good clean.
7. Dust, Dust, Dust
Dust gathers in the places you can't see. Don't forget to look on top of ceiling fans, above cabinets, on picture frames, and even your TV screens. Dust is everywhere, but it can be easily removed in one swipe!
8. Don't Forget to Disinfect
This won't take more than a few minutes out of your cleaning schedule. Get your favourite disinfectant and wipe down all hard surfaces, including countertops, electronics, tabletops, and TV remotes. A simple mixture of four parts water and one part white vinegar is an excellent non-toxic disinfectant.
9. Wash Your Tools
It isn't just the home that needs to get clean. You also have to wash and disinfect the tools you are using to clean the house. Throw dusty rags in the wash and clean out your vacuum bags before each cleaning session.
10. Get Your Tubs and Toilets Clean
Don't forget about the precious porcelain! You can clean tubs and toilets while cleaning other parts of your home. Spray your cleaner on the sinks and tubs and let it sit for about 20 minutes. Tend to different cleaning tasks, then come back to wipe it down!
11. Gently Wipe Glass and Mirrors
You should have a specialised glass cleaning product as part of your repertoire. If not, you can simply use a damp microfiber cloth – followed by a dry microfiber cloth – to wipe at your mirrors and glass surfaces gently.
12. Clean the Kitchen
The kitchen is usually the place where people go first or last on the cleaning schedule. As one of the essential rooms in the house, the kitchen contains plenty of areas you need to clean. Don't forget to clean out your fridge and freezer while you're in there!
13. Make Cleaning Fun for the Whole Family!
Cleaning does not have to be a solo activity. The job can get done much more quickly when everyone gets involved. Assign people to specific rooms or certain tasks, and before you know it, the house is spic and span. It's all in a day's work!
Live that Work-From-Home Mum Life!
Cleaning feels like a chore and a half, especially when moving and professional help makes sense, but by using your time efficiently and gathering the materials you need beforehand, you can make this an easy task. Try getting the whole family involved so you can all be done with it at once. Follow these tips to get better peace of mind in your home!
Are you looking for more of the best tips for stay-at-home mums? Want more house cleaning hacks? Follow us for updates and guides to help you live your best mum life!
Latest posts by Jane Wilson
(see all)