Today, I am pleased to share with you the delightful story of Giova and Mia. Their daily photos will warm up your heart and will surely put a smile on your face. Allow me to introduce you to our amazing contributor from Base Architecture – Giova.
About Giova:
Giova is an Associate and Architect with Base Architecture. She is also a mother of one very shy, yet very mischievous three year old, Mia, and a stepmother of three. Time is definitely something Giova wishes she had just a little more of. When she's not spending time with her family, or helping clients with their dream homes and renovations, she is at home trying to work on her own renovations! Giova just recently bought a new –well 70's home, so not new, new – home with her husband, Graham, and it has definitely made their already very busy lives just a little more hectic. Here is a brief look into Giova's life and what a normal kind of day looks like for this busy mother, architect and home-renovator.
–          Morning Mama! How most mornings start for me.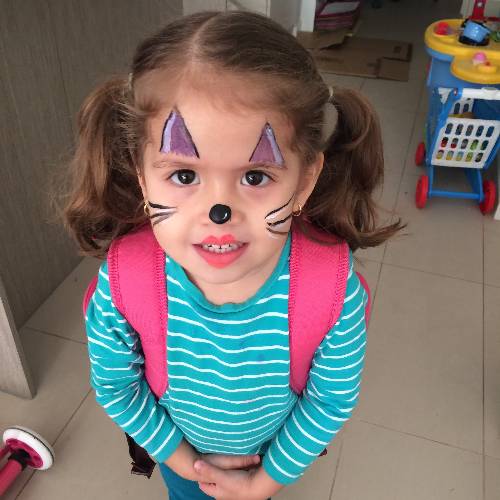 –          A quick face painting session before the kindy run – just one more skill to develop!
–          The drive to kindy and work is always fun when your three year old will only listen to Disney music…
–          The drive to kindy is also Mia's Skype time to Nana in Venezuela – no time is ever wasted in our household!
–          Dropping Mia to kindy. Today was tutu day.
–          At work I finally get time to eat breakfast while I work on some plans for a client.
–          Sample sorting for a client. I love helping clients choose samples – this is fun!
–          Before I can get too comfortable though it is time to head off to a measure up for a new project.
–          Measure ups are great for getting out of the office. But before too long we're off to another site meeting.
–          And as usual I am wearing the wrong shoes for site visits! How can someone prepare for so many shoe changes in a day?
–          Before I even know it, it's time to pick up Mia from kindy. And of course, more Mia the photographer time.
–          We make a quick stop at the shops before heading home.  It must be nearly bed time because Mia lies down in a random display bed and asks for her milk.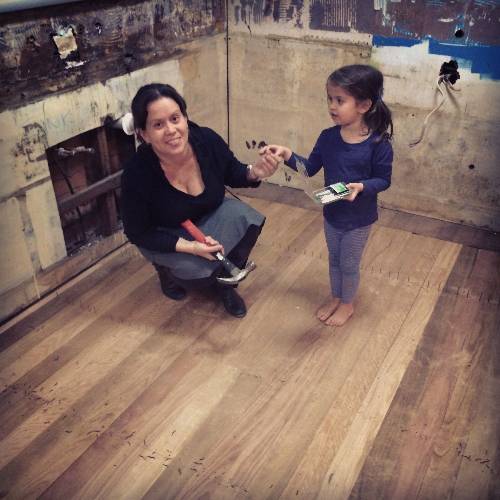 –          We finally make it home to find hubby still working on the renovation – we have a floor!
–          Yes… we have a floor and a thousand nails to hammer.
–          Time to see what I have missed out on today. This is Mia's version of me.
–          And she can write her name! I miss her more instantly.
–          Bath time already, and a bit of fun before I have to dash off to a work event.
–          It must be a special day as I'm out past 8 o'clock with the work girls!
–          But I'm always happiest when I get home. Because home is where your heart is.
Latest posts by Jane Wilson
(see all)