Curtain Cleaning Tips To Keep Them Looking Like New
Curtains are an important furnishing for your home, not only for the practicalities of blocking out light, keeping in the heat and providing privacy, but they can really set the tone of a room if you want them to by providing colour impact and contributing to the atmosphere of a space. Curtains come in a vast array of styles, fabrics, colours and prices. There are many ready to hang curtains available to purchase, or you can have them custom made to specifically suit the style of your home.
Curtain, drape and upholstery cleaning can be daunting. Curtains are quite expensive items and when cleaned, fabrics may bleed, fade or shrink. Once curtains are hanging in your home, they are often something, which tends to be forgotten about, but they do require regular maintenance to keep them in top shape and preserve their longevity.
Curtain cleaning is a topic you may not know a lot about and it can be confusing to know where to begin. How on Earth do you clean heavy fabrics? What about delicate lace? Like clothing, the various fabrics curtains are made from requiring different care methods.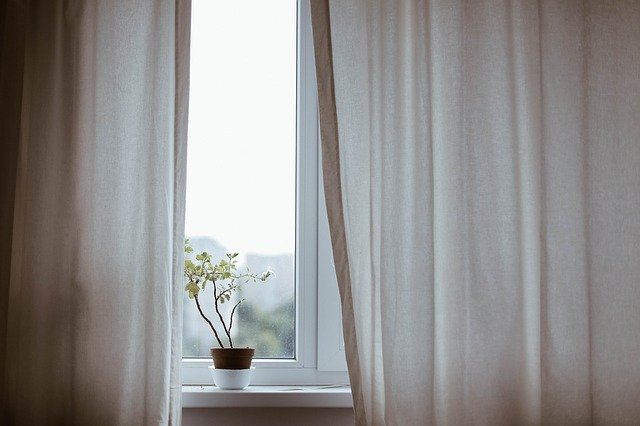 Types of Curtains
The method for cleaning your curtains will depend on their style and the fabric they are made from. Here are some of the most common types of curtains:
Eyelet and Tab Top
These curtains hang on curtain rods using eyelets or folded tabs of fabric. They are quite contemporary and easy to open manually, without the use of cords. Simple and clean in their design, they are a popular choice for bedrooms and rooms that are more casual.
Rod Pocket
Having a pocket sewn across the top in which the curtain rod goes makes these a simple curtain style, which is often used for sheer and lace curtains. These are sometimes used on windows in conjunction with a blind behind them. You can also place heavier curtains on the front, they provide extra blackout and privacy. The sheer curtain fabric lets in lots of light while still blocking some direct heat and giving privacy through the day.
Pinch Pleat, Box Pleat and Pencil Pleat
Pleated curtains are a more formal style, with neat pleats at the top. They provide a fuller curtain and are made from heavier fabrics. They are often operated by a cord system. These curtains usually provide a cosier feel to a room due to the heavier fabric and fullness.
Curtain Cleaning Tips
Ready to tackle the cleaning of your curtains? If you have custom-made curtains, seek the advice of the store you purchased them from, or check for any care instructions on the curtains themselves. It is important to comply with the manufacturer's guidelines and do a colour spot test on a small area of the fabric before attempting any DIY curtain cleaning. Here are some helpful tips, which will give you a starting point on which cleaning method to proceed with.
Give them a Shake
A good way to prevent dust from building up is to give your curtains a gentle shake quite often, even daily. Hold the curtain by the bottom hem with both hands and fluff it up; similar to what you would do with a doona – but with less gusto! Dust will lift from the surface of the curtain.
Use a Lint Roller
If your curtains are very heavy and difficult to shake, using a lint roller will remove dust and surface dirt easily. Aim to do this every week or so to keep on top of the task and pay special attention to the rod where most dust will settle amongst the pleats.
As you'll be up close to the fabric, you'll be able to spot any marks or stains, which need special attention. You may need the assistance of curtain dry cleaning experts such as Drytron who provide exceptional curtain, drape and upholstery cleaning.
Spot Cleaning
If you just want to remove a small spot or mark on your curtains, a gentle fabric stain remover may do the trick. Do a spot test on the fabric first. Dilute the stain remover in water and gently dab the area. Rinse with some clean water if necessary.
Hand Washing
If you have a large laundry trough or bathtub and your curtains can be washed by home cleaning, doing so by hand is the safest option. Spot test the fabric on a corner or the back of hem with a small mix of water and a liquid detergent. Gently hand wash in cold water only, using a very little detergent and rinse well in clean water.
This is the best method for delicate fabrics such as sheers and lace. You may want to try a gentle spin in the washing machine to remove excess water and the curtains can be hung straight up again on the rods while they are damp.
Washable curtains can be dried in the clothes drier on a low setting. However, make sure you remove the curtains from the drier before they are completely dry and hang them up. Letting them finish drying this way will prevent creases and folds forming in the fabric.
Machine Washing
If you are certain that your curtains can be safely cleaned in your washing machine, spot test the fabric as described above. If all is ok, remove any hooks and other hardware prior to washing, use only cold water and a very small amount of detergent on a gentle cycle. If the curtains are small in size and lightweight fabric, you can place them in a pillowcase, which is tightly closed and wash them in that.
Curtain Dry Cleaning
If your curtains are labelled as dry clean only, or if you are in any doubt at all about whether to clean them yourself, trust a reliable and experienced company such as Fantastic Cleaners for professional curtain cleaning in Melbourne. Having your curtains dry-cleaned is a very gentle process that not only removes dirt and allergens but will ensure your curtains will look like new again and will preserve your window coverings for years.
Even if you are able to clean your curtains at home, periodic curtain cleaning by an expert is recommended for a deep clean and to restore the fabric fibres in your curtains.
Latest posts by Guest Contributor
(see all)