How to Remove Nail Polish from Around the House
Nowadays almost every woman in the world uses nail polish. It's a great way to cover different defects on your nails, but it's also a great way to have fun and experiment with shapes and colours. Today even some people can draw entire pictures on your nails, using nail polish. There are even schools, where they can teach you how to make interesting figures and other stuff. We can easily say, that this tendency to paint your nails has become very popular and I've seen even men painting their fingernails! Well, it's mostly in black, but it's still happening. But the bad side is, that the nail polish often gets on other parts of our body or on some items around you, and once it does, it's really hard to get it off there. Having this in mind, I've gathered some information about how to remove nail polish from stuff, and I decided to share it with you. So, keep reading.
From wood. Spilling some nail polish on wood is actually a very common situation. After all, we often apply nail polish near a table or a desk, and sometimes these things just happen. But when they do, we shouldn't panic, we just should take the needed measures to get it off the wood. The most important tip for this situation, is to never use nail polish remover on wood. You may think it will help, but it will actually ruin the finish of the surface. When you have to clean nail polish from wood, you should use hair spray. It may sound silly to you, but it actually works pretty well. Just spray lots of hair spray on the stain, wait for about half a minute, and wipe it. You may have to repeat this procedure a few times, but the nail polish will be removed entirely in the end.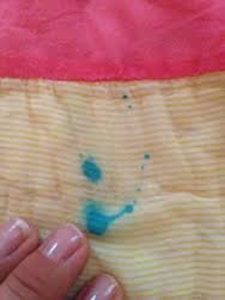 From clothes. This is also a very common and unpleasant situation. Our clothes get stained with nail polish quite often, and it's also very common that these clothes get damaged afterwards. We throw them away only because we don't know what to do and how to clean them. It's a fact that the different fabrics are cleaned differently, but on the general types, which are not so gentle, you can use nail polish remover. Just get some of it on the stain and scrub gently until you get it off. If the nail polish remover doesn't work for you, you can also use hair spray. Or, if the fabric is very gentle, you can always drop it for dry cleaning. They can get rid of every stain for you.
From the carpet. Carpets are also common victims of our beauty procedures. Surprisingly, you can easily clean nail polish from your carpet using a simple window cleaner bought from a store. After you discover the nail polish stain, blot as much as you can to remove the excess. Using a sponge or some soft cloth, apply a small amount of the window cleaning detergent to the stain and scrub in a circular motion. Rinse the area with cold water and let it dry. The stain should disappear.
From hair. Sometimes we are in a big hurry, and we try to look great all at the same time. And these situations are usually followed by disasters. I'm sure many of you have had the unpleasant experience to ruin both your nails and hair in the process. The nails are easily fixed, but most girls have no idea how to fix their hair after this. Fortunately, the solution is quite easy. If the nail polish is still wet, you can easily remove it with some nail polish remover. Just make sure there's no acetone in it, because it can damage your hair severely. If the nail polish has already dried, you can use some kind of hair conditioner or oil. Just apply it on your hair and gently slide the pieces of nail polish from it.
Latest posts by Jane Wilson
(see all)