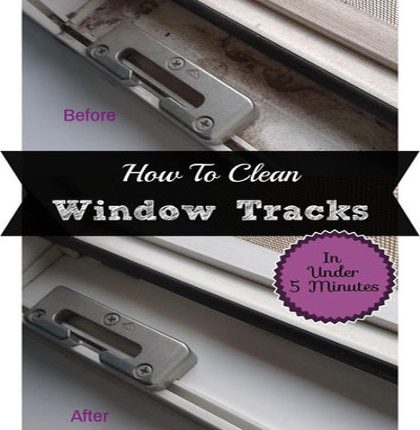 How to Clean Window Tracks in Under 5 Minutes
Every time the weather allows it, I tend to open the windows to refresh the air inside and get some sunshine. But every time I do it, I feel bad after noticing all the dirt that has accumulated in my window tracks. I even feel ashamed when there are guests at home. So, last time I washed my windows (as part of some spring cleaning), I decided to spend some time cleaning the window tracks as well. Not that I never did this before, but it was definitely time for a deep clean. To my surprise, it took me very little time. Frankly, taking and editing the photos for this post took me far more time compared to the time I spent cleaning. I'm sharing my experience with you and will be glad if you have something you wish to add. But first, see what the tracks looked like in the beginning:
What did I use? Only common materials I already had at home, I didn't buy anything – vinegar, sponge cloths, a toothbrush and cotton buds. In fact, you might also need paper towels to dry the tracks in the end.
First, I grabbed the vacuum cleaner and went through the window tracks with the thin attachment. As you can see, things started to look a bit better – most of the dust that wasn't caked on disappeared.
Next, I tried vinegar as a window track cleaner. I poured a little in the track to loosen stubborn gunk and used a sponge cloth to spread it all over the surface. This is the main part and here is where you can experiment the most. For not-that-dirty surfaces you don't even need vinegar – some warm water (maybe soapy) would be absolutely enough. And if things are really bad – add bicarbonate of soda to the vinegar and let the bubbles do their job.
Used the toothbrush and cotton swabs to clean hard-to-reach spots, channels and edges. Depending on the profile type of your tracks, baby swabs may do a better job for you, as they are thicker.
That's it! Wipe dry with whatever you have on hand – I used paper towels. I believe the results are plain to see and are more than great.
All right, let's compare:
I always thought this would be a terrible chore and that's the reason why I've put it off for a long time. I guess, I just didn't know it was so easy to clean window tracks. And it really takes only a few minutes per window! I think the true effort lies in the decision to take care of the tracks, rather than in the cleaning itself. Try it yourself and let me know what you think!
Latest posts by Jane Wilson
(see all)